Simple joys have a simple voice: It says time is a living prize.
Time gifts us so much. A healthy, happy baby girl
....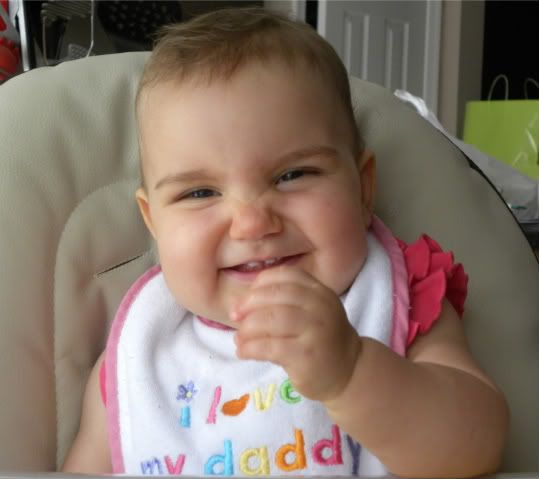 ....who can now wear her hair in a perfectly-pebbles-ponytail....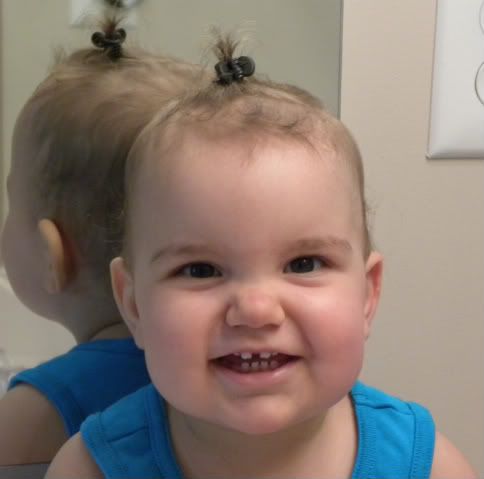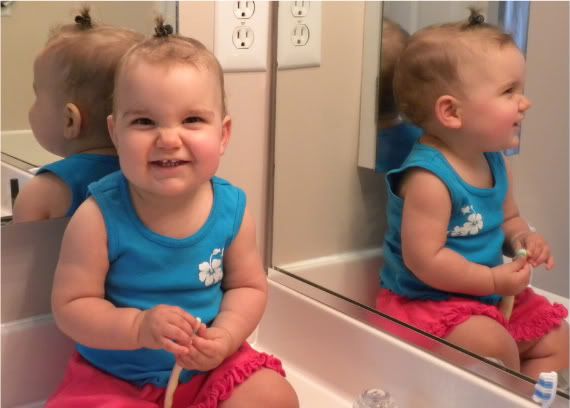 ....and who practices a beautiful yoga butterfly pose.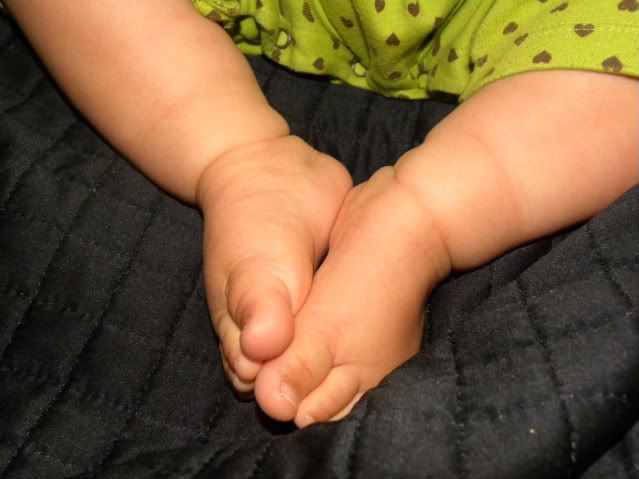 We celebrated time this weekend. Our sweet Danny is a year old. It seems like only yesterday we were enjoying the quiet of an August afternoon with a newborn snuggly-wrapped and napping on her Boppy when our cell phones buzzed with the news that the littlest Badour was on his way.
not sure whether to laugh or cringe at the looks on their faces. they just scream, "I didn't do it".
The simple joys of finger-suckin'.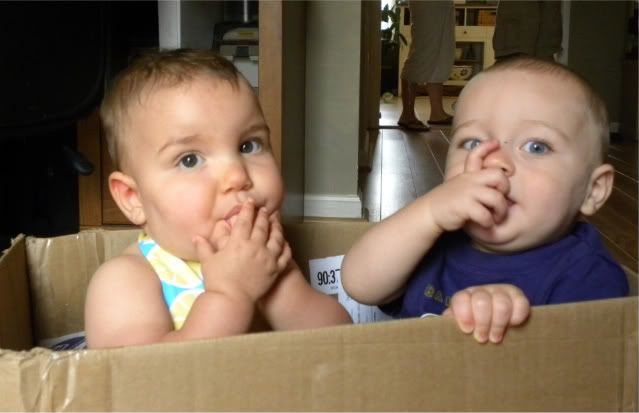 World's Best Gift-Opener.
*EVER*
The simple joys of a new Momma and her sweet baby girl. I swear, holding little Austin did wonders for my blood pressure.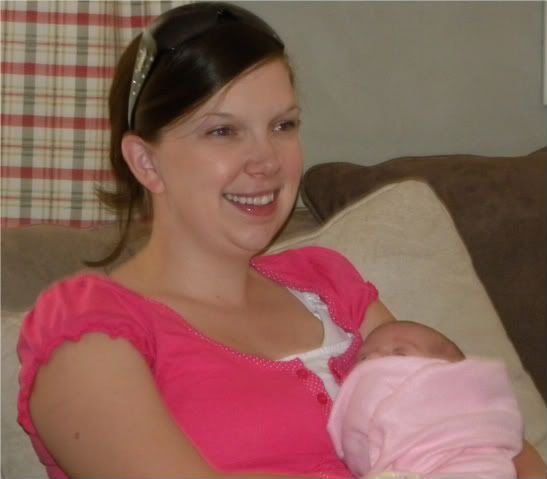 Notice how both of them have ripped into the poor, unassuming objects they were playing with.
By far, time's sweetest living prize -- Grandpop Larry. We are so blessed to have him in our lives healthy, happy, and sharp as a tack, and our children are so fortunate to be able to know one of their great-grandparents. That isn't a bragging right many folks have.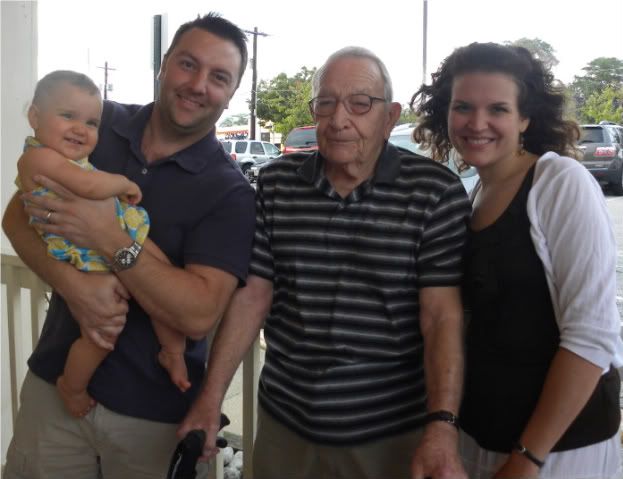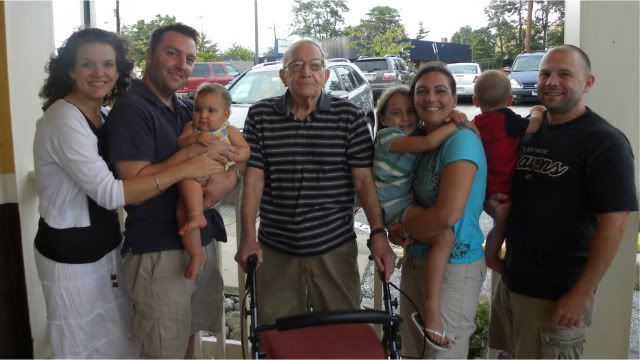 Another one of time's living prizes -- sending your child to school. Ok, it's daycare, and she's ONE, but it's still quite a milestone we knew would creep up on us.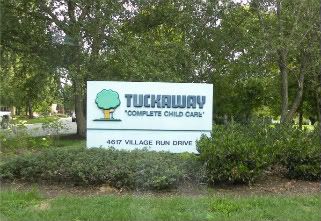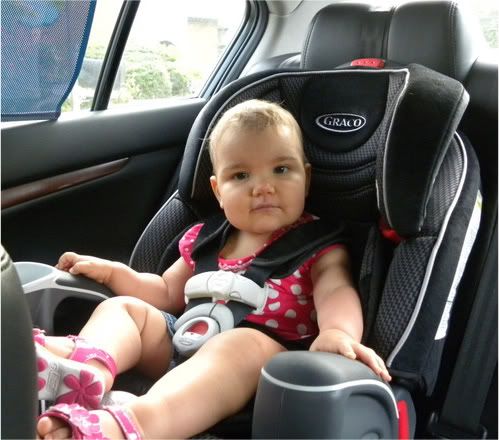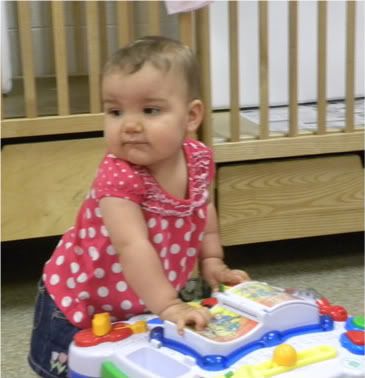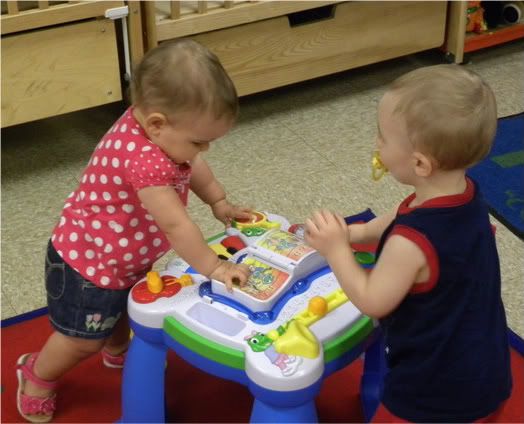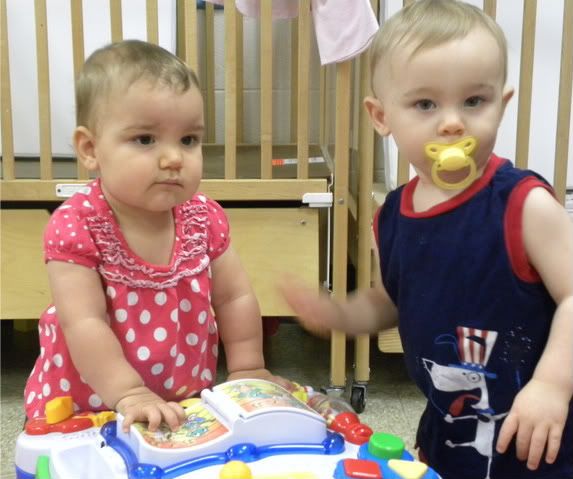 me-thinks she may have a new bff. this kid was in a bunch of pics from her first day.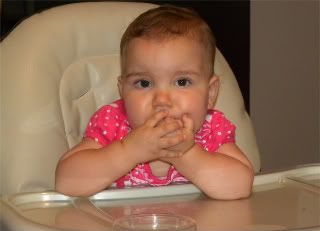 All in all, it was a successful first half-day. We are transitioning her this week into full-time. Yesterday, I picked her up before lunch....today, she'll dine with her classmates (Lucas, Lucas, and Kyle....she's the belle of the ball) and come home before naptime. Hopefully, she'll be an 8-5 girl by Friday.
And two things that patience has gifted us. A new home: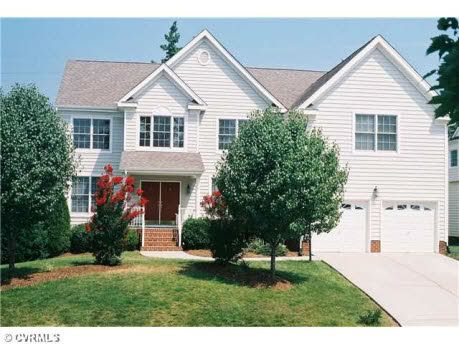 You can view the entire album
here
. And one last thing.....over the past 4 years, I have taken the Praxis II Music:Content Knowledge Exam multiple times. It is the only thing standing in my way of full teacher certification. A passing score in Virginia is a 160, which is 20-30 points higher than any other state in the continental US. While I admire the Dept. of Ed's dedication to employing the cream of the crop, the fact remains that the test is written primarily on an instrumental basis. 78% of vocal majors never even come close to passing it. Until now, my score has hung out in the 150's. After July's test, I felt so awful about my performance, I registered for September's test as soon as I returned home. Apparently, I don't give myself enough credit. I passed, meaning I have completed all requirements and am now fully certified. I'm really liking August so far....