The hardest part about buying a new home is making it
home
. I can't tell you how many days I've gotten in my car to go home from school and started to head toward Glen Allen. Eric seems to be adapting well, but I'm such a creature of habit that I find myself verbally saying "go to Midlothian". Anna seems to be settling in just like she's always owned the place. No issues there. She even has a favorite sitting spot.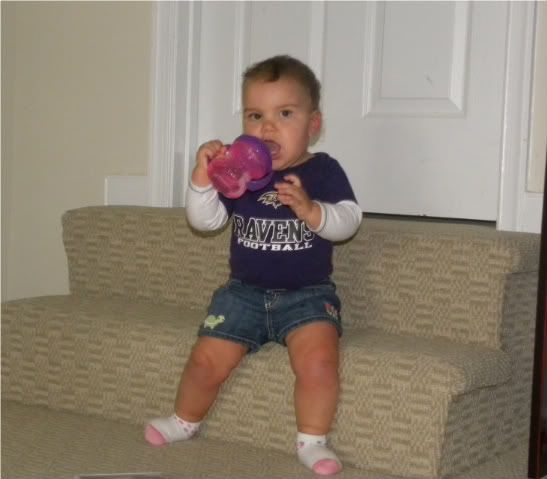 She's a resourceful child, and has found alternate ways to use the boxes left over from the move.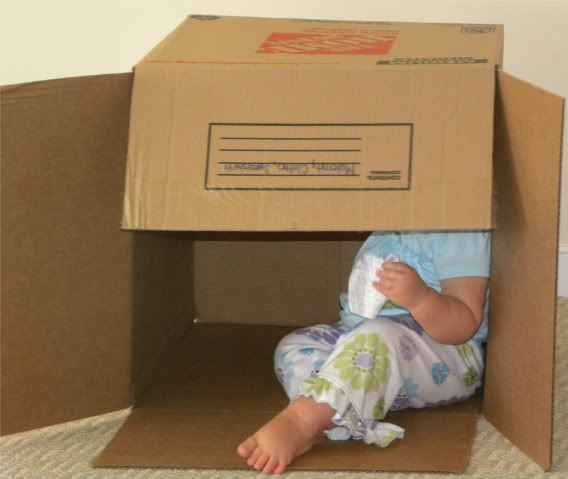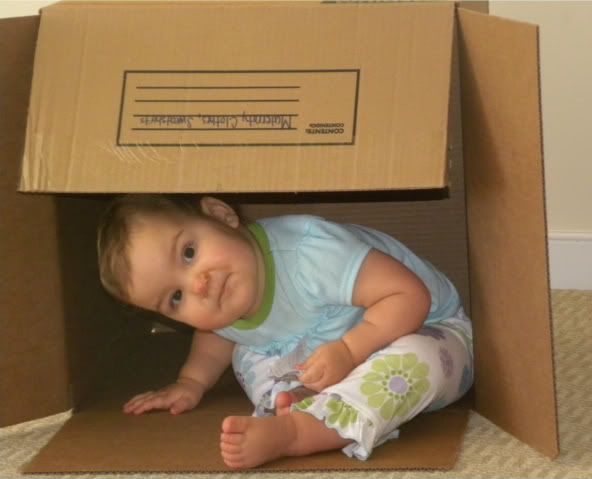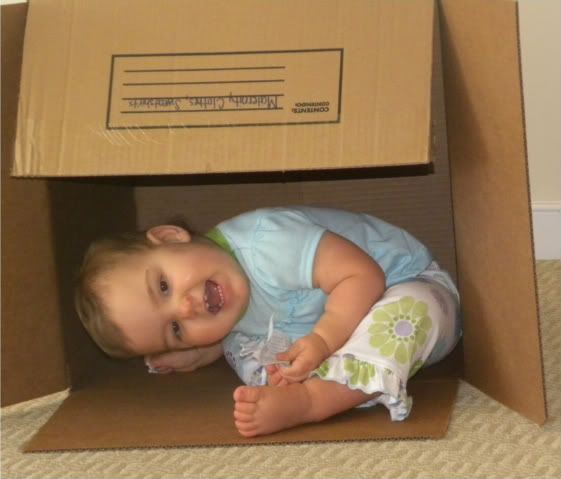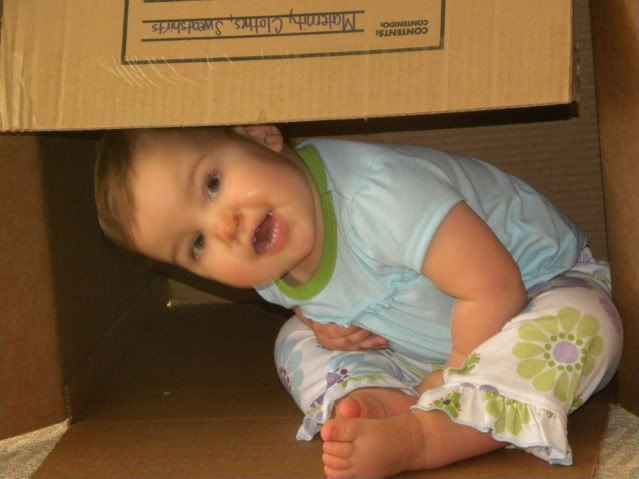 the child has THOUSANDS of dollars worth of toys, yet finds the most joy playing with cardboard.
She's even managed to discover all the good hiding places. Click
here
for more.
yeah, the screws poking through aren't the safest things in the world. posting this online makes me nervous that child protective services may make a visit here in the near future....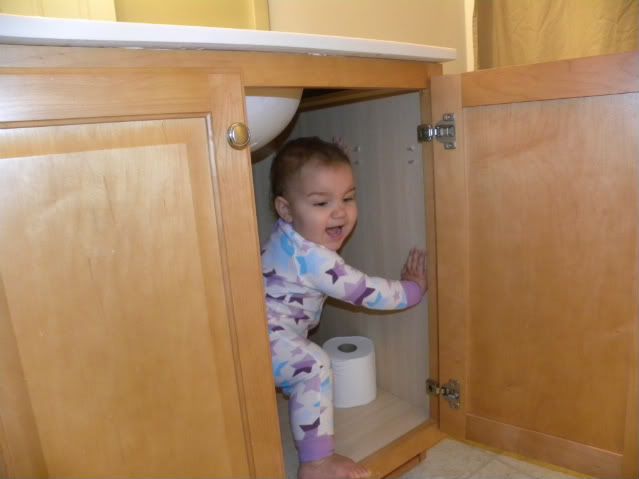 She's making huge strides in her development, and we've converted all of her push toys into ride-alongs. She's having a great time "driving" her car and "riding" her lion.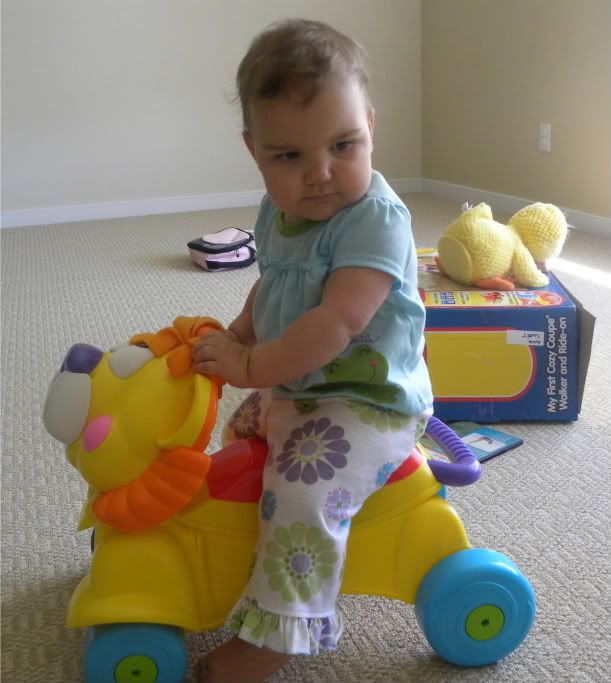 Saturday, we headed to JMU for homecoming. It gets bigger and more purple every year, but it's always a fun time and a nice getaway. The drive to Harrisonburg is, by far, one of my favorites, not only because of the gorgeous scenery of the Blue Ridge Mountains, but also because of the great company it allows us to enjoy.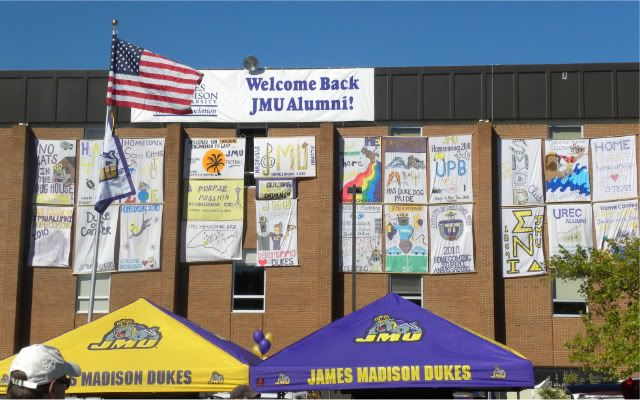 carrie....did you say something about a bounce house? :-)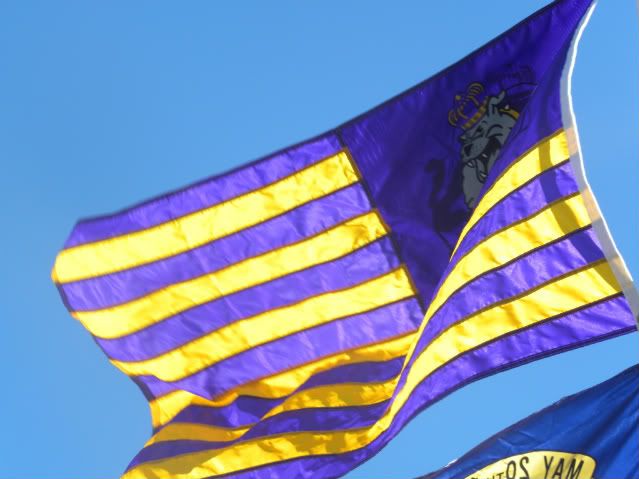 We got to hang out with Jason, Tenille, Cora, Reed, and Ella. We hadn't seen them in two years and it was great to catch up and introduce them to the munchkin.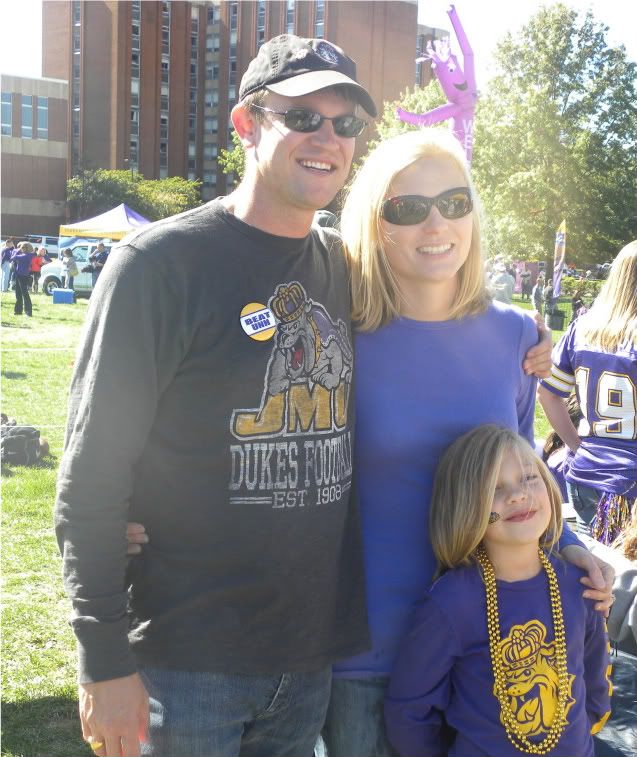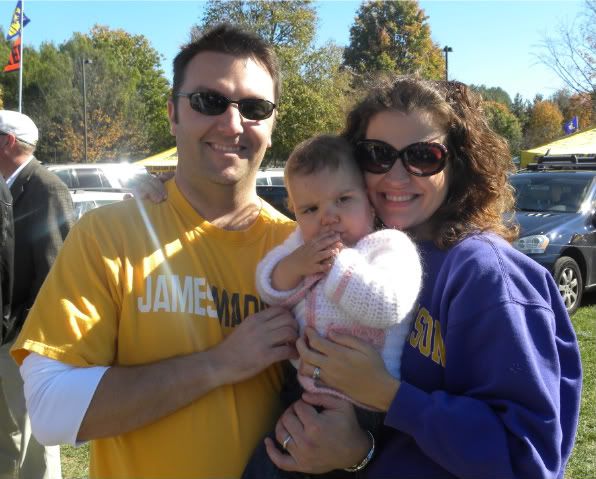 Matt Macaroni and Rob Lawrence happened to be there as well, and the boys had a great reunion.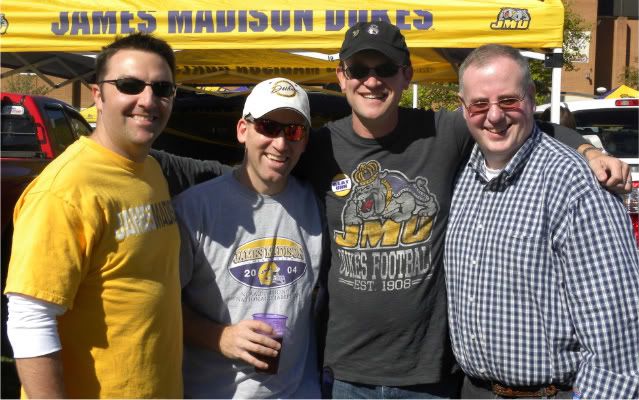 It was Anna's first homecoming, and she really seemed to enjoy herself.
She was having so much fun, she decided to visit some other tailgates to see what other folks were up to. And while a party-crasher always makes for an awkward situation, we made some new friends and got some pretty hilarious photo ops.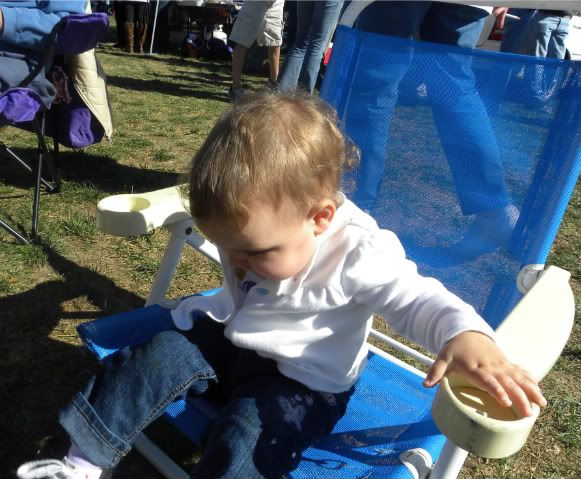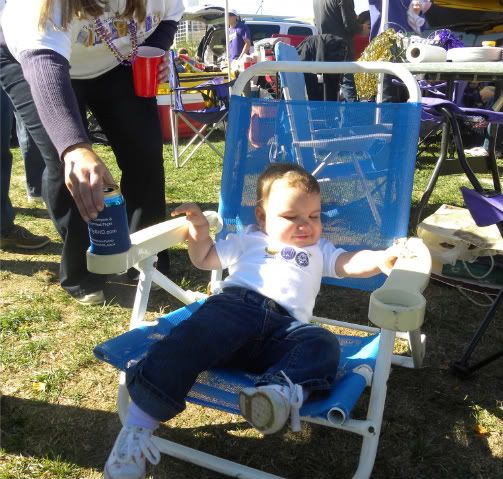 I know Eric had fun, but I felt guilty because he had to chase her around all afternoon. Every time I turned around, I saw this little sprite and her much-taller, much-yellower shadow not far behind her.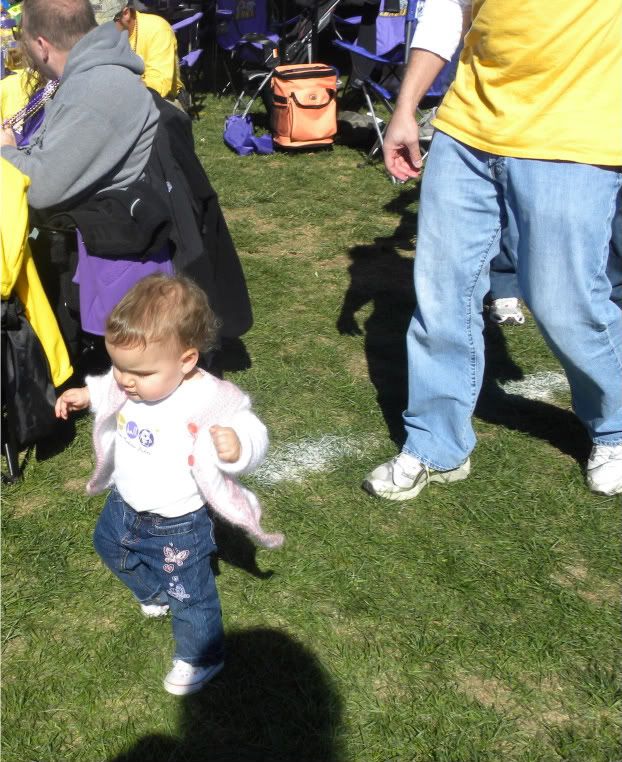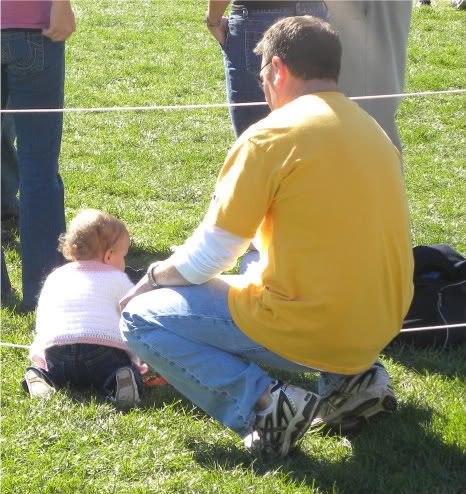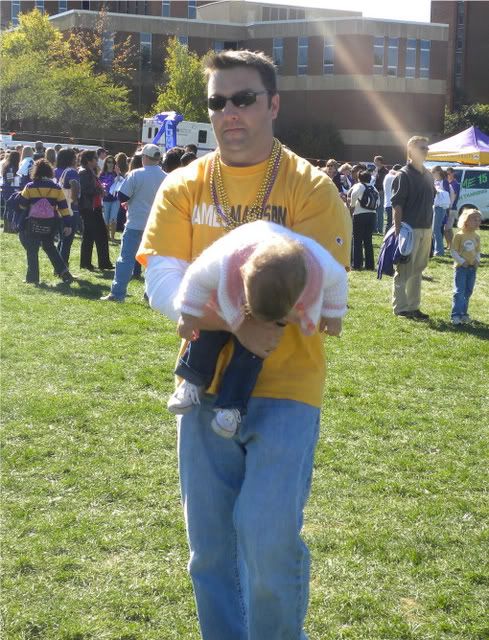 Believe me, I would have pitched in, but I'm a bit gimpy right now....say hello to the ugliest shoe EVER.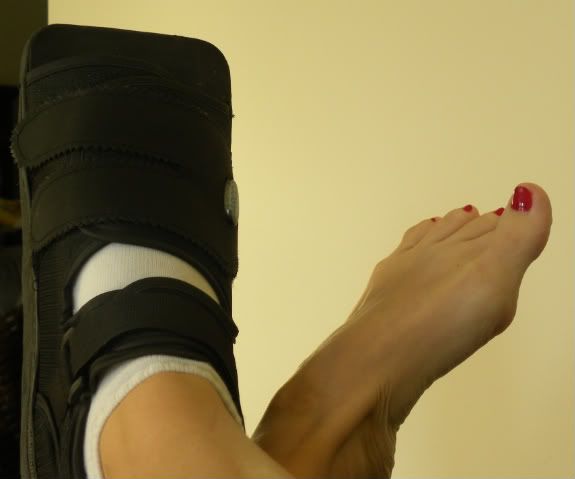 After 30-years of reprieve, I finally drew the fracture card.....well, not fractured, BROKEN. In two places. Don't ask....it's a funny, yet embarrassing story. Let's just say navigating stairs and chasing a toddler have become REAL interesting. I'm seriously considering investing in one of those horrible child-leashes I swore I'd never own. They're startin' to look pretty-dern practical right about now....