We set out this morning for a feat we missed out on last year.....visiting with Santa. Anna got all dolled up, and if I do say so myself, we have ourselves one precious child. Thanks to her Auntie Amy (okay, her cousin, but they share initials, so she's AUNTIE) for the adorable dress.
We spent close to 2 hours in line. Anna was the perfect child. NO. REALLY. Other Moms were jealous. She was so chill. She laid her head on my shoulder. She ate her cereal bar with no tantrums. When I set her down and it came time to move ahead in line, she took my hand and walked all by herself.
And....when she finally got into see Santa (who knew her name, by the way....and I quote, "Well Matthew and Mackenna, Merry Christmas. Try to be as good as you can this week. But, now I have to talk to my Little Miss Anna". Yeah. Knew her name BEFORE I told him. Gotta be the real thing, here.).....SHE. DIDN'T. CRY.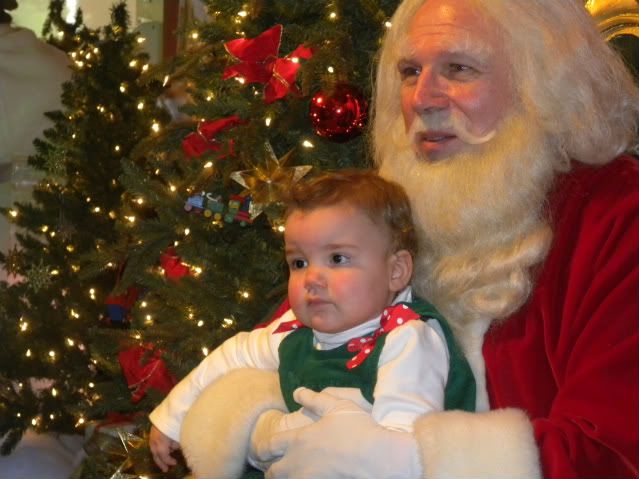 I'm praising the Good Lord right about now. She was PERFECT, and now, I finally have a Santa pic for her scrapbook. I'm kicking myself for not going last year.
I must share pics of Miss Thang napping on her Daddy Saturday. I had to reminisce because these pictures look so dern familiar.....
Behold, a 5-day old baby napping on her Daddy....much like what you see above.
We are so incredibly blessed. I'm looking forward to all her milestones to come. She now can say (well, the words resemble) milk, diaper, and ball. She has an
infectious laugh
. She's also learning to
use utensils
very well now. (as always, click on the bolded links for videos)
Merry Christmas!