We've enjoyed some good times the past couple of weeks. As temperatures have heated up (wait, HEATED UP? Really? More like somebody lit a fire in the Earth's thermostat and told it to blast full power bringing about humidity that makes my hair weep with frizz), we've enjoyed some time outside. Or, as Anna would say, "OW-SI!!!!"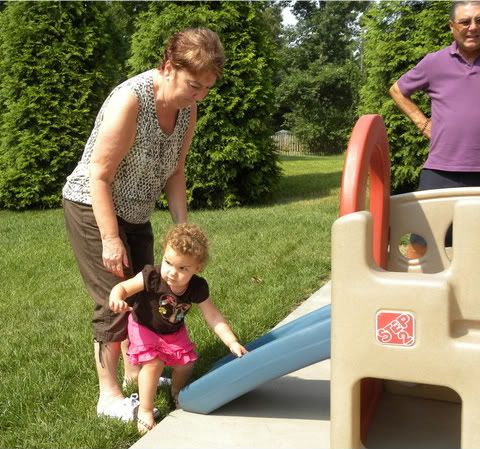 (slide: courtesy of diane....and, evidenced by this video and this video, we can't keep her off of it!!!!)
Yup....that's Gam and Pop! They came in for a few days on what we like to call a progressive visit -- beginning with us on the 31st of May, moving onto the Badours for the remainder of the week, then up to Connecticut to visit with Uncle Mike et al, back down to Delaware for a stop at the Cooke's, and back through Richmond for a couple of days before heading home.
Anna was so excited to see them and did her grand-daughterly duty of occupying their time with plenty of books, toys, and saccharin-sweet doses of cute.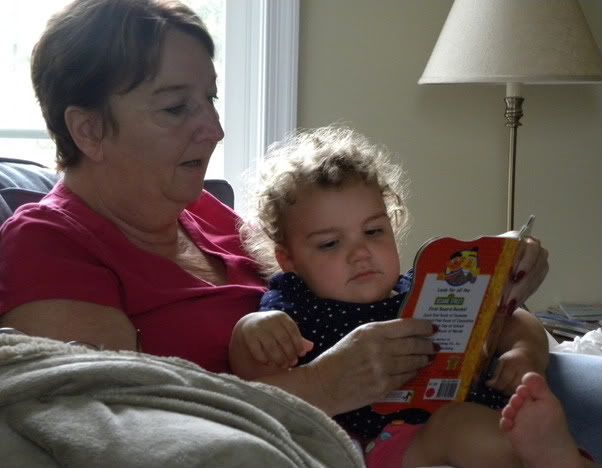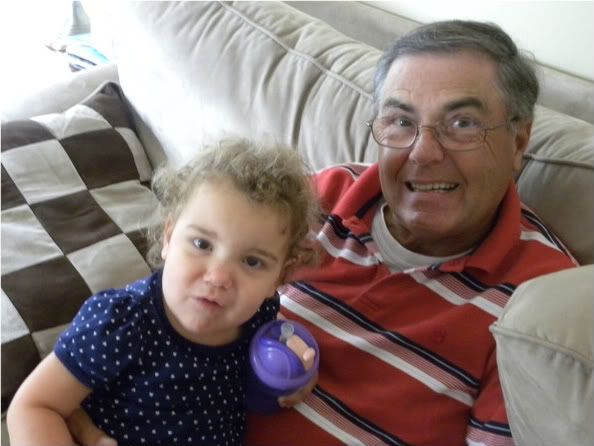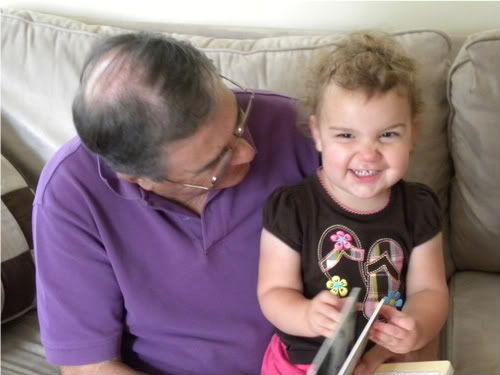 **********************************************************************************************
Father's Day weekend began with a visit to a special friend -- my Oklahoma Mom. She brought a group of students through Williamsburg for a few days, and they flew out of Richmond. Anna found her prettiest dress to meet her Oklahoma Grandma, and we spent a much-too-short time with Jackie Saturday afternoon. (of course I didn't take my camera -- that would have been a responsible act on my part. Eric did manage to snap these before we left, though).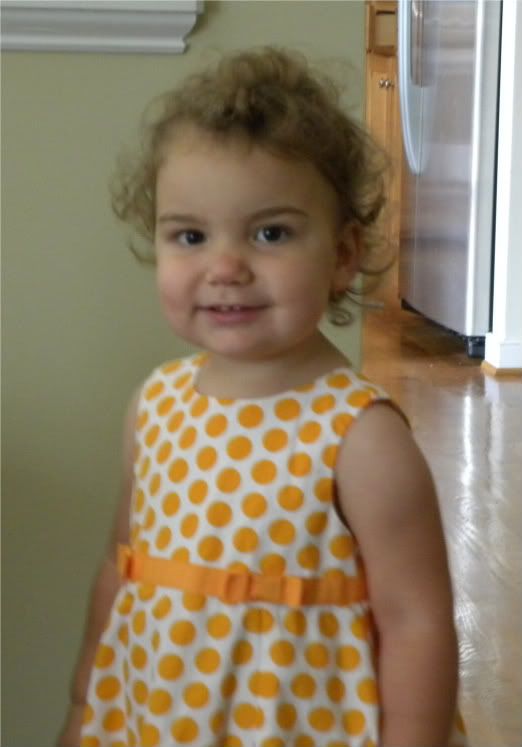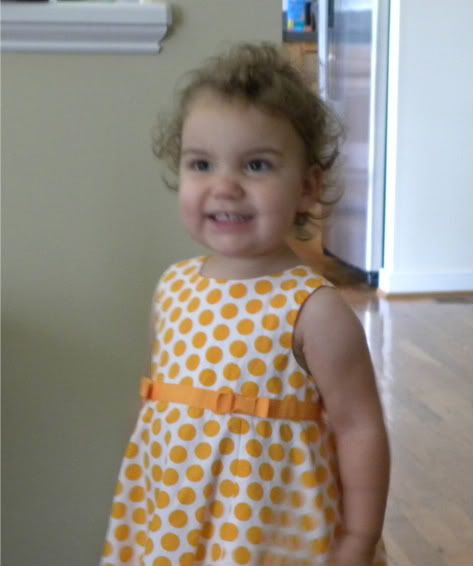 Father's Day began with a home-cooked breakfast made with love. Literally.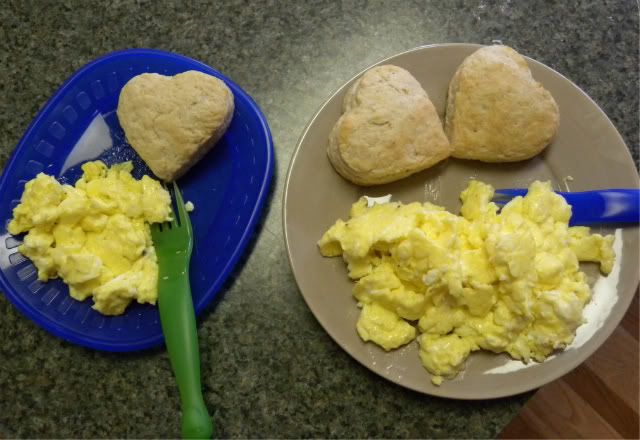 We followed that up with a stroll through the neighborhood to the various playgrounds. First stop: Swings. This girl LOVES. TO. SWING. Click
here
and
here
. (please excuse my annoying voice)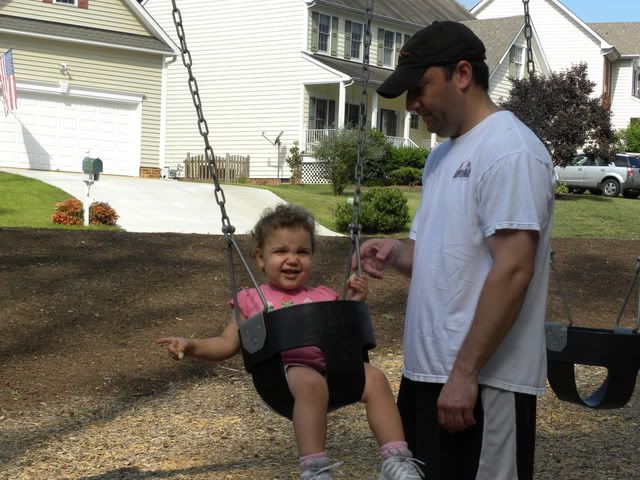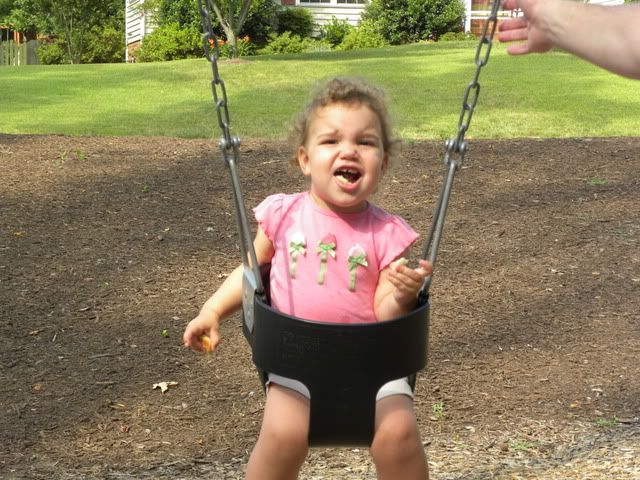 favorite horse: Seabiscuit. Get it? "See" Biscuit? anybody?.....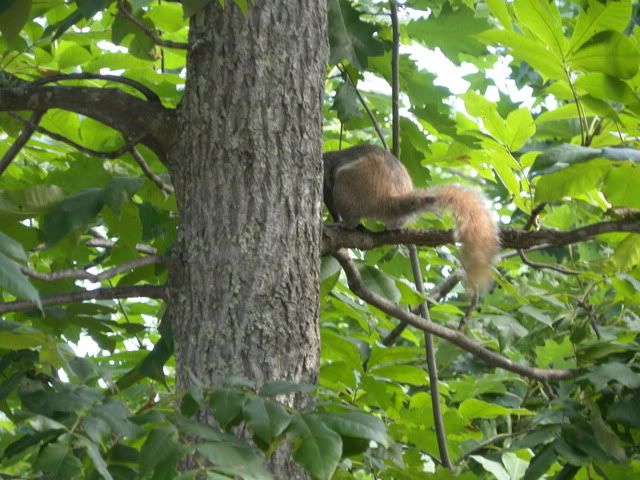 don't ask. I have a thing for squirrels....not their rear-ends, mind you. I couldn't get around to take a picture of the front of him....plus, he was screaming something fierce at a robin in the next tree over. I think it was a love spat.
We headed over to the main playground by the clubhouse after some swing-time. The
last time
we were here, Anna was VERY reluctant to go anywhere but the first little wooden step. This time, she was a wee-bit more brazen.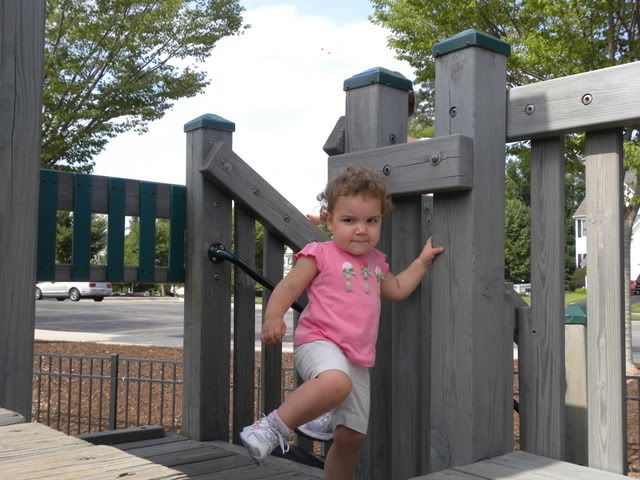 look at that fierce determination as she heads for the slide......the subsequent picture was her turning around screaming when we told her to come down the slide. Oh, well. I still went down.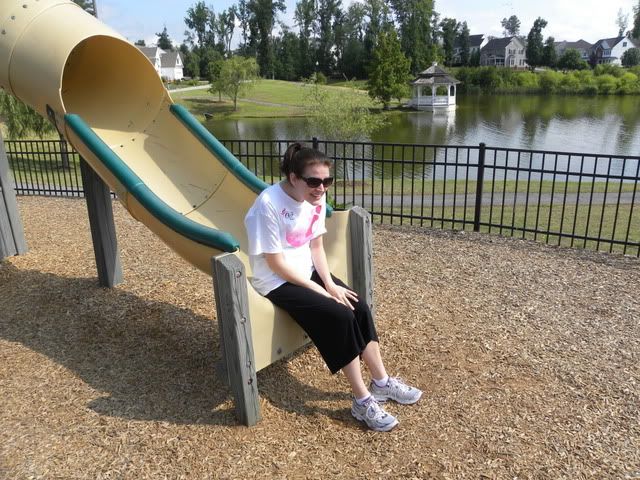 Now that I'm finally out for summer vacation, expect many more playground trips, wagon rides, pool shots, and afternoons spent cleaning ice-cream off of fingers and tee shirts. Happy Summer.